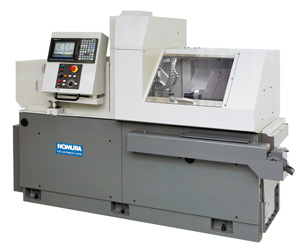 Equipment list
Rapid feed rate speed of 36m/min.
Adopts new tool holder (□12.7mm)
Built-in motor (3.7kW) with overwhelming torque on Main Spindle enables to cut harder material
C-axis function for $1 & $2 as standard function
Tool Post ($1)

Succeed the tool-preset method enabling quick changing of tooling.
The tool holder has few twine-trouble of cut-powder with small-sized, highly hard and new design.

| Tool | Size | Standard | Option |
| --- | --- | --- | --- |
| OD Tool (Tool Holder) | □12.7 | 5 | 6 |
| ID Tool | ER-16 | 4 | 4 |
| Live Tool | ER-16 | 4 | 3 |
Tool Post ($2)

4 Position tool

Center drill
Drilling
Tap
OD tool

Tool post ($2) controllable independently enables a wide range of optional installations.
NC control model has adopted MITSUBISHI M70A, whose 8.4" Type and TFT liquid crystal improve the sight performance.
C-axis control function is built-in as standard, which shortens the working time because of no returning to the basic happened when to change from the main spindle to C-axis, by the basic position-loop control of main spindle.
3.7kW oil coolant built-in motor is adopted on Main spindle, and C-axis function is carried on Back main spindle.